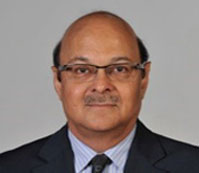 Warm greetings!
I whole heartedly thank you for trusting me to serve the Indian Business and Professional Group (IBPG) and its members as Vice Chairman, alongside our honorable Chairman.
With a rich history of over 30 years, IBPG has established itself as a leading voice of UAE's Indian business and professional community
Looking ahead, IBPG will seek to be a forum for strong collaboration amongst its members, other business groups and the local business community providing opportunities for sharing knowledge, experiences, innovative ideas and business development.
UAE is in the midst of implementing dramatic changes in the business regulatory environment. IBPG will work with the relevant government bodies and business groups to ensure that the concerns and suggestions of our business and professional members are heard and addressed in a timely manner.
In these difficult times, we will also be a platform that is socially responsible and engaged, further cementing our position in the local communities.
We look forward to receiving your valuable suggestions to make our Group more vibrant, active and useful for our members.
Best Wishes
Sharad Bhandari
Vice Chairman, IBPG Abu Dhabi