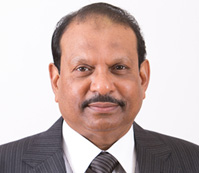 Dear Members,
My hearty greetings to one and all.
I am very happy to address you all as the Chairman of Indian Business and Professional Group (IBPG). I wish to place on record my sincere thanks to all members of IBPG for the faith reposed in me. I assure to do my best and work along with you to take IBPG to greater heights.
IBPG was established more than 30 years ago and today, it is one of the active business groups among the registered business groups in the UAE.
There are many priorities for IBPG. Among these, IBPG will continue to be instrumental in promoting the development of trade and investment between India and U.A.E., and to further strengthen the age-old relationship between both the countries. Our vision is to create a progressive bilateral trade platform between India and UAE and to encourage inclusive commercial partnerships that will inspire entrepreneurship, networking, globalization, innovation and job creation.
IBPG, in addition to creating business and professional opportunities for our members, will also continue to hold joint social events involving all social bodies in Abu Dhabi providing social networking opportunities for the members' families.
IBPG is a platform with great potential and with a team of vibrant business leaders and professionals, I am sure, we can together help our group achieve its goals and objectives.
Yusuff Ali M.A.
Chairman, IBPG Abu Dhabi